BEDICO AUTOMOTIVES established more than two decades ago at Ludhiana by late Sh. Kuldip Chand Bedi with his vision, hard work and extraordinary managerial and technical capabilities started this business from the manufacturing of cycle parts and established his empire throughout India and abroad and later expanded into Scooter, Motorcycle, Three Wheeler and Truck Parts.

The Bedi Group of Companies having 4 companies BEDICO AUTOMOTIVES, BTX CHAINS INDUSTRIES, ADVANCED TECHNOLOGIES (INDIA), BEDICO TRANSMISSIONS. under their flag out of which Bedico Automotives is manufacturer and exporters of all types of Scooter, Motorcycle and Three Wheeler Parts of Punjab state (India), has grown into a renowned business house today.

The group is actively involved in the international scene of manufacturing and export. "MEGAVOLT" & "BTX" brand holds the conviction that managerial rationalization, cost reduction and product development upgrading are the best means of assuring the continued growth and prosperity.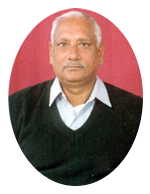 Karmyogi Sh. K.C. Bedi
(2-11-1939 to 14-3-2003)

The strength of Bedico Automotives is based on skills and professionalism of its staff, expert technical staff ensuring high quality consciousness, checking all products periodically and automation of export department likewise plays an important role in providing prompt information.

The company utilizes automated machinery and equipment to maintain the highest standards of uniform quality. Expert technicians monitor the production process to ensure high quality international standards, care is taken at every step, for timely delivery and complete customer satisfaction at the most competitive prices.
For the years to come, an all out push for still higher standards is our definite goal.